I'm making it for the second time tonight so I'm really hoping it came out as good as it did the first time.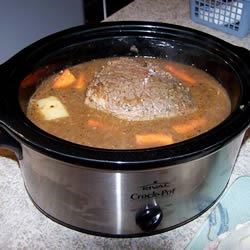 (This is not mine but it's the closest to what it looks like when I cook it.)
Seeing as I am only one person, it's hard to find crock pot recipes that are specifically made for one person and only have one serving. Honestly, I would probably be spending a lot more money on groceries if it worked like that. This recipe, if following the directions online, will yield 12 servings.
The last time I made this, it lasted me for the rest of week for lunches and one dinner. So out of a 5 day work week, I got about 6 meals including the first night I had it for dinner. For a family of two, it should still last for a couple of days for leftovers.
I got the recipe originally from Pinterest (of course) but it linked me to this website:
Awesome Slow Cooker Pot Roast
The awesome thing about this website is that you can change the number of servings you want and it will change how much of each ingredient you will need accordingly. I just kept the number at 12 because again, I like having the leftovers.
Here is the recipe:
2 (10.75 ounce) cans condensed cream of mushroom soup (I used potato soup because I don't like mushrooms)
1 (1 ounce) package dry

onion

soup mix
1 1/4 cups water
5 1/2 pounds pot roast
Step 1: Add soup, water, and soup mix into the crock pot and mix together.
Step 2: Coat pot roast in mixture
Step 3: Cook on high for 3 to 4 hours or low 8 to 9 hours.
And that's it! Easy right? The meat comes out so tender and flavorful it like melts in your mouth. Better yet, the gravy is already made with the ingredients that you coat the pot roast in. No extra gravy needed.
The only thing I did differently is I added some potato and baby carrots in towards the end of the cooking cycle just so that I didn't have to make an extra side.
I usually add the veggies with about 2 hours left to the cooking time. If you are like me and you work all day and don't want to wait for another 2 hours after you come home and wait for the veggies, you can either make another side or I suggest turning the crock pot on high for about an hour to make the veggies cook faster.
No matter what you add, I can guarantee the meat will come out amazing. I hope you are able to enjoy this as much as I do.
Watch out for another food blog either Saturday night or Sunday. I have a steak marinade and potato recipe that I'm going to have Ryan grill up for me.
Until next time,
Jessica